TMX es la primer conferencia internacional en México, dedicada a la Tipografia, Diseño, y Nuevas Tecnologias. El tema de este año es: THE FUTURE IS FEMALE
TMX is the first international conference in México dedicated to typography, design and new technologies, and the first big typography conference wholly dedicated to female designers!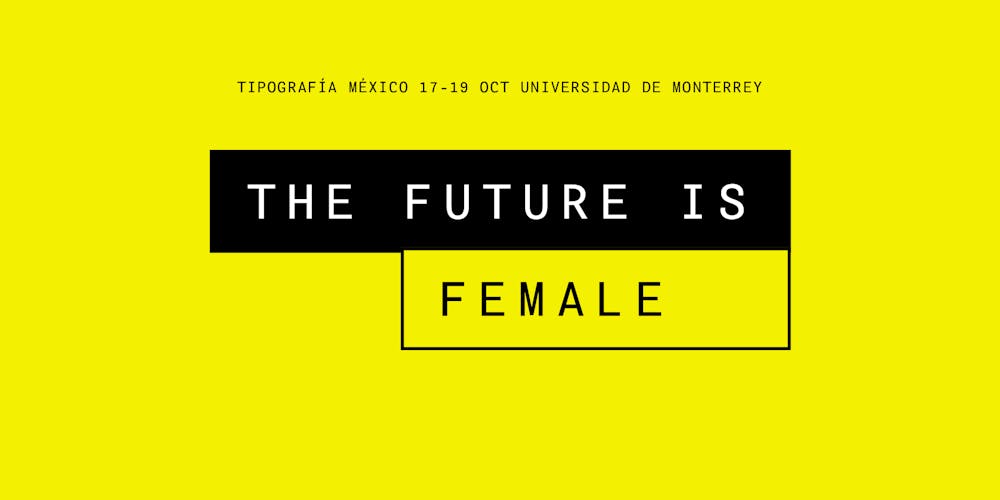 TMX Tipografía México: es la primer Conferencia Internacional en México dedicada a la Tipografía, Lettering, Diseño, y Tecnología.
En esta edición "The Future is Female" descibrirán el potencial del movimiento tipográfico liderado por mujeres mexicanas con proyección Internacional.
Nuevos talentos Mexicanos haciendo Tipografía. Líderes internacionales compartiendo y educando a nuestra comunidad.
SINDY ETHEL (MX)
ROMINA HERNÁNDEZ (MX)
VICTORIA RUSHTON (US)
HANNELORE OCAMPO (MX)
MÓNICA MUNGUÍA (MX)
SANDRA GARCÍA (COL)
DAFNE MARTÍNEZ (MX)
CALL FOR PRESENTATIONS:
LLAMADO A PRESENTACIONES: El comité de TMX Tipografía México los invita a proponer presentaciones de su trabajo en las áreas de Diseño, Lettering, Tipografía, Editorial, Web y Apps.
Manden su propuesta a hola@tipografiamexico.com para que el comité la evalue y puedan compartir su experiencia nuestros invitados. Los requisitos son:
—Nombre y perfil profesional completo
—Sitio Web / Portafolio
—Título de Presentación y Valor de Diseño propuesto
—PDF con selección de 4 proyectos relevantes en las áreas mencionadas
—Fecha límite es 30 de Septiembre de 2018
http://tipografiamexico.com/